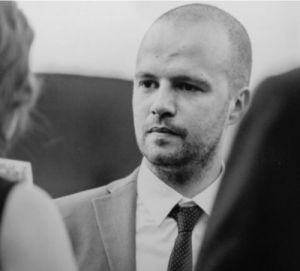 João Teixeira (born in 1982, Coimbra, Portugal), is a self-taught painter. Since he was a little, Teixeira showed an interest in drawing and painting. Due to the way arts are perceived his country and to his strict parental guidance, the artist ended up doing his studies in the health field. Later on, he returned to drawing, at first, making portraits and figures in a very realistic way, but soon he started to lose interest in reproducing reality as it is. That's when he started to experiment with oil paint for the first time and ended up in love with it.
Nowadays he first starts with a quick underpainting in acrylics to explore shapes, then he paints the underneath sketch all over again with oil paint. 
In his work, João Teixeira is able to create visual spaces that are neither abstract nor simply pictorial; the artist combines the real and the imaginative creating a whimsical experience for any viewer.
This artist's work has been exceptionally blooming, receiving a lot of praise from national and international entities and private collectors, a great way to begin a potential artistic investment.