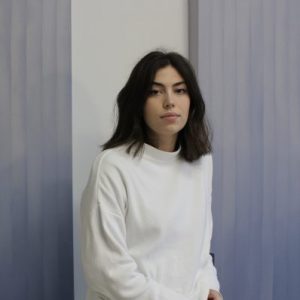 Maria Luísa Capela (b. 1997, Porto), finished her degree in Painting from Lisbon's University of Fine Arts in 2019.
Her academic journey also includes a one-year study programme in Accademia di Belle Arti di Torino in Italy, quickly launching her work in various gallery spaces through multiple groups and solo exhibitions. Winner of Paula Rego's (3r Edition) Award, she participated in international art shows such as Bienal Internacional de Arte Jovem de Villaverde and XXI Bienal Internacional de Arte de Cerveira, with also having won Revelation Award D. Fernando II (XV Edition) at MU.SA.
In Capela's work, the meaning of a painting is fully deconstructed. Her approach goes beyond the traditional and the conventional, transforming bidimensionality into sculpture-like objects that engage individuals in an immersive experience through this in-between space.
This young emerging artist's work provides an atmosphere that allows for the ambiguity of psychological state. With Capela's reputation rising, her minimalist artworks are a great way to start any contemporary art collection, with price, formats and mediums differing at a great value.