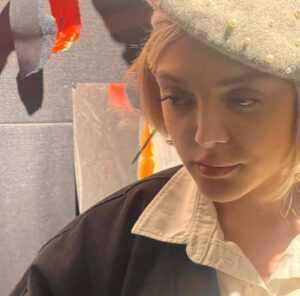 With a BA from Elmi Karbordi University, Zahra Shahcheraghi (b. 1989) is an Iranian artist who's work resembles a modern approach on abstract expressionism.
Her compositions display an arranged chromatic pallet combined with distinctive figurative elements that effortlessly are transformed into storytelling paintings.
Inspired by the imaginative and curious nature of her childhood, in her artworks, Zahra tends to humanize the experience of womanhood, creating paintings that evoke whimsical fantasies of the female body and its constant journey of self-discovery. 
Zahra explores the concept of sexuality in her works, a taboo theme in Iran. Her controversial artworks are starting to build a name in London, where her most recent works are being received with demand and acclamation. 
EXHIBITIONS
2023 Swan's Death, O Gallery, Tehran, Iran ( Solo) 
2022 I Feel Everything All At Once, Natasha Arsenal Gallery, London, Uk ( Group)
2022 So Far, Yet So Close, Mariana Custodio Gallery, London, UK (Group)
2021 Mistress, O Gallery, Tehran, Iran (Solo)
2019 Untitled, Shirin Gallery, Tehran, Iran (Group)
2019 Nasle-e-No, Homa Gallery, Tehran, Iran (Group)
ART FAIRS
2022 Asia Now Art Fair, Paris, France (Group)
2022 Contemporary Istanbul, Istanbul, Turkey (Group)
2021 Contemporary Istanbul, Istanbul, Turkey (Group)