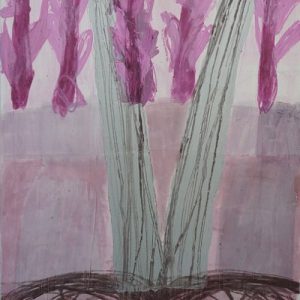 Robert Solomon, artist and designer, was born and raised in Philadelphia, PA, where he lives and works. Robert earned his Bachelor of Arts from Pennsylvania State University, and has completed graduate work in Architecture at University of California (Los Angeles), as well as graduate work in Sculpture at Tyler School of Art, Temple University (Philadelphia).
He has exhibited widely across the United States, particularly along the east coast, and has had several one-person shows, most notable and recent of which were at bahdeebahdu in Philadelphia, PA, Lawrence Gallery of Rosemont College in Bryn Mawr, PA, and the Grand Opera House in Wilmington, DE. Robert's work has been included in several private collections and public institutions, and he has participated in several residencies such as the Directors Workshop Residency in Spoleto, Italy, the Vermont Studio Center, and the BAU Institute in Otranto, Italy. Robert has been an active member of several artist organizations in Philadelphia, including InLiquid, Da Vinci Art Alliance, Center for Emerging Visual Artists, and SAGE Projects, and was an original member of Nexus Gallery, as well as the founder and artistic director of Advocates for Public Art, LLC.
He has curated exhibitions at Nexus Gallery, SAGE Projects, and Rowan University Art Gallery, among others. Robert's furniture design work has been licensed to EuroPine, Ltd, and Roche Bobois, and his professional studio art practice continues to thrive alongside his evolving repertoire with work in inter-disciplinary art such as his recent venture into directing a collaborative dance adaptation of "Red Riding Hood" at the Neighborhood House in Philadelphia.