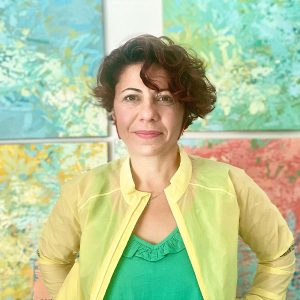 Seçil Erel (b. Istanbul, based in London) got her BA and MA degree at the prestigious Mimar Sinan Fine Art University and have been exhibiting in a numerous of group and solos exhibitions across Turkey, Germany, Switzerland, Italy, UK and USA. Seçil has also been an artist in residence in Turkey, Switzerland, Moldava, Germany and London.
Growing up in a multicultural city as Istanbul, Seçil has soon developed a high sensibility to pluralist visions and a strong ambition to further expand her horizons. After extensively traveling, in 2017, the artist decided to move to London and soon after opening an art studio, she notoriously received a scholarship from the London Creative Network. In 2021, Seçil was invited for the Royal Academy of Arts Summer Exhibition, with her remarkable work Universal Fragments; Brightness.
For Seçil, being a contemporary artist means attentively observing and enticingly processing the world's plentifulness into abstract relationships of time and space. The masterly saturation of her canvases, with vibrant colours and texturised layers renders to Seçil's interiority, a richness of thought and emotion pertaining to intense and invaluable experiences. Her motto is for her work to be widely influential.
Selected Exhibitions & Residencies:
2001 "The End", Studio Space, Istanbul, Turkey
2002 "Taste", Is Bank Parmakkapı Art Gallery, Istanbul, Turkey
2005 "Young Expansion" in Contemporary Turkish Art, Pera Museum, Istanbul, Turkey
2005 "Multicultural Identity: Cultural Heritage, Art, Image", Ankara & Eskisehir, Turkey
2009 "Lonely Moment", Mithat Paşa Art Gallery, Ziraat Bank, Ankara, Turkey
2010 "Exhibition of the Century", Collection of T.C. Ziraat Bank, Cer Modern, Ankara, Turkey
2013 "ODTU Art 14", ODTU, Ankara, Turkey
2012 Art Platform, Los Angeles, Gallery Zilberman, Los Angeles, USA
2014 "A Gift For Nazım", Nazım Hikmet Culture Center, Istanbul, Turkey
2015 "Nothing Exceptional", Gallery Konrad Moenter, Dusseldorf, Germany
2015 Trelex Art Residency Open Studio and Exhibition, Geneva, Switzerland
2016 "Multiples", Kuad Gallery, Istanbul, Turkey
2017 "Artificial Nature" with Coskun Demirok, Schloss Neersen Gallery, Düsseldorf, Germany
2017 "Imago Mundi", Mediterranean Route, Palermo, Italy
2017 "Artificial Nature" with Coskun Demirok, Schloss Neersen Gallery, Düsseldorf, Germany
2017 Interstices, Art Else Where, Stour Space Gallery, London, United Kingdom
2017 " Possibilities", Work at the Yard, New York, USA
2018 Less is Bore, Artnivo, Istanbul, Turkey
2018 Collection, Arab British Chamber of Commerce, London, United Kingdom
2020 Abstract Art, Rise Art, Venue, London, United Kingdom
2021 Royal Academy Summer Exhibition, London, United Kingdom
2021 Satellites, Rise Art, London, United Kingdom
2021 Non Prescription II, Ekav Art gallery, Istanbul, Turkey
2022 Habitat, Contemporary Six, Manchester, United Kingdom