From time to time I get people telling me that they don't understand contemporary art. That's fine and understandable, therefore if an image can worth more than 1000 words, nothing better to explain contemporary art than contemporary art itself.
Here I will explain contemporary art with the help of 20 works that represent this movement.
XX great examples of contemporary art (with pictures)
Andy Warhol – Marilyn 1967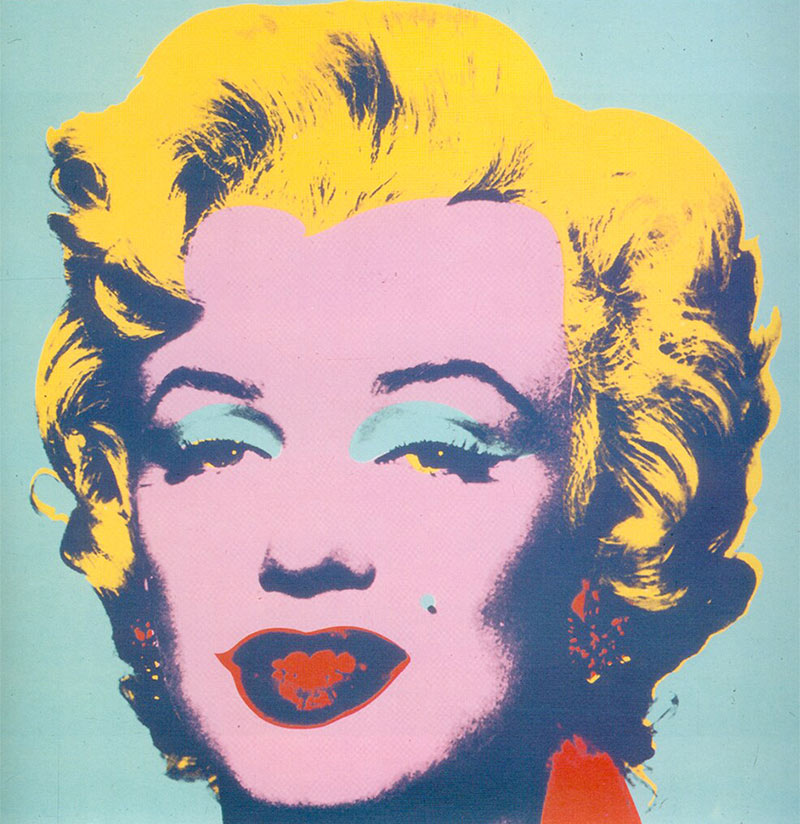 Probably one of the most famous contemporary art pieces in the world, Marilyn Monroe of Andy Warhol marks a turning point in the artist life. In 1967 Andy established his print published business – Factory Additions – and this work was the first one to be produced there.
Andy Warhol is without a doubt a leading figure in the Pop Art movement. His works explore the relationship between artistic expression, advertising and celebrity culture that flourished by the 1960s.
Jackson Pollock – Autumn Rhythm (Number 30)
Paul Jackson Pollock, American painter popular for his unique abstract expressionism style. He was widely recognized for his technique of pouring or splashing liquid household paint onto a horizontal surface 'drip technique'. This new technique, allowed him to view and paint his canvases from all angles. It was also called ' action painting' since he used the force of his whole body to paint, often in a frenetic dancing style. This extreme form of abstraction divided the critics: some praised the immediacy of the creation, while others derided the random effects.
Autumn Rhythm (Number 30) is one of his most popular works. Created during 1950, Autumn Rythm was partly photographically documented by Hans Namuth. Namuth's photographs showed the sequence in which Pollock filled the canvas, and the order in which paint colors were applied to the work. Currently, Autumn Rhythm (Number 30) can be appreciated at the Museum of Modern Art.
Damien Hirst – The Physical Impossibility of Death in the Mind of Someone Living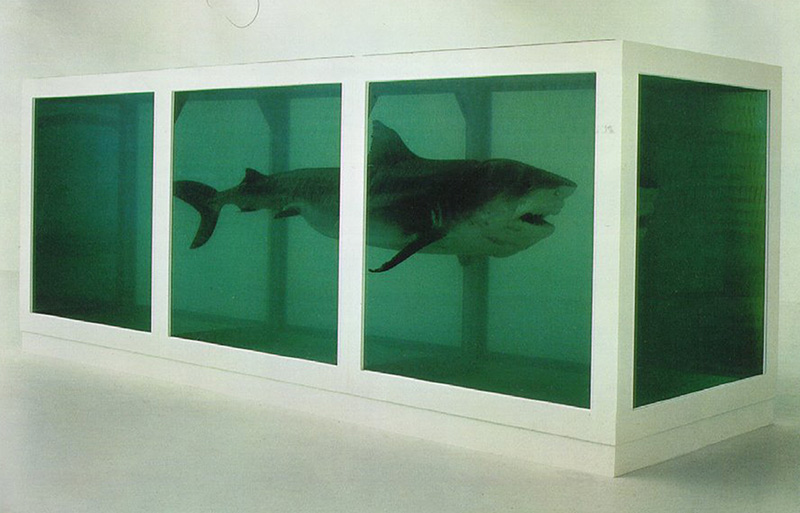 As one of the Young British Artists (YBA's) Damien Hirst gained popularity from using Death as central theme of his works. His most reconizable works consist of death animals as a shark, a sheep and a cow among others. Those animals that are preserved, have sometimes been dissected, in formaldehyde. The best-known of these was The Physical Impossibility of Death in the Mind of Someone Living, a 14-foot (4.3 m) tiger shark immersed in formaldehyde in a clear display case.
The Shark is undoubtedly saluted as one of the crucial works of British art in the 1990s and has become a symbol of Britart globally. It was then sold for a New York investment banker for 12 million dollars.
Willem de Kooning – Untitled XIV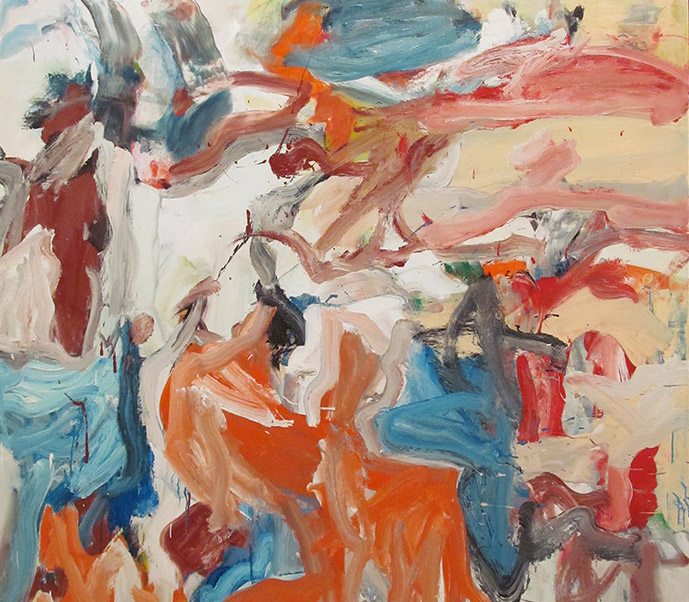 Currently at the Museum of Modern Art, Untitled XIV is probably one of the works that better represents the main style of Willem de Kooning. The artist who was born in Rotterdam, Germany got his walk to fame in the United States. Even if his inicial style was more figurative, his evolution as a painter switched for abstract expressionism making him one of the 1st generation of abstract expressionists. Even if most of the Abstract Expressionists denied that they made sketches for their paintings and instead worked spontaneously, de Kooning created a method that allowed for fluid construction and reconstruction of his compositions, leaving them still with an aura of spontaneity.
Interesting to know that De Kooning first solo show happened when he was already fourty-four years old in 1948. By the end of the 1970s, de Kooning was struggling not only with his own drinking and depression but with his familiar process of all-over paintings as well; he was looking for a new way of painting. Therefore this was in my point of view when his works were at its best.
Franz Kline – Buttress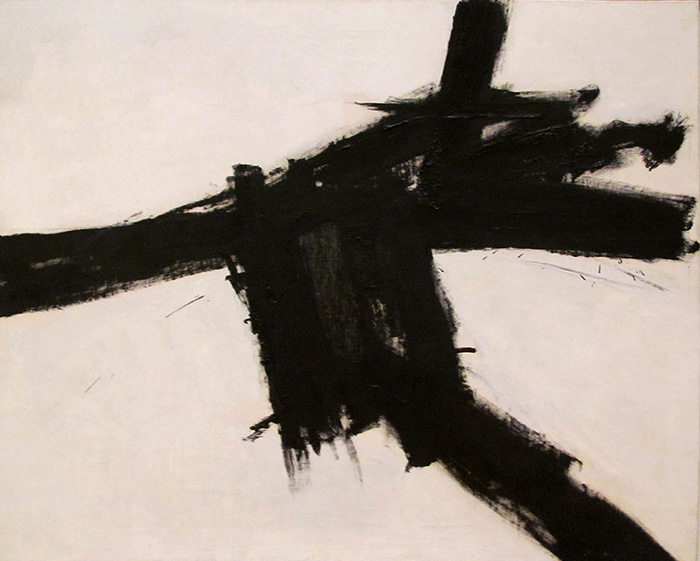 Franz Kline is probably one of the most famous American Abstract Painters. Kline's artistic training focused on traditional illustrating and drafting. During the late 1930s and early 1940s Kline worked figuratively, painting landscapes and cityscapes in addition to commissioned portraits and murals. The personal style he developed during this time, using simplified forms, became increasingly more abstract. Many of the figures he depicted are based on the locomotives, stark landscapes, and large mechanical shapes of his native, coal-mining community in Pennsylvania. This is sometimes only apparent to viewers because the pieces are named after those places and objects, not because they actually look like the subject.
Franz Kline's Buttress combines the intimacy of a small, flick-of-the-wrist ink sketch with the bodily scale of a dynamic, expressive "action painting." These two types of scale form the DNA of Kline's loose, rugged black lines, executed with wide housepainter's brushes and set against a stark white ground. Kline arrived at this signature style after seeing one of his little calligraphic sketches blown up to monumental size on an opaque projector. Buttress conveys the impression of an expansive bodily painting process.
High society – Cecily Brown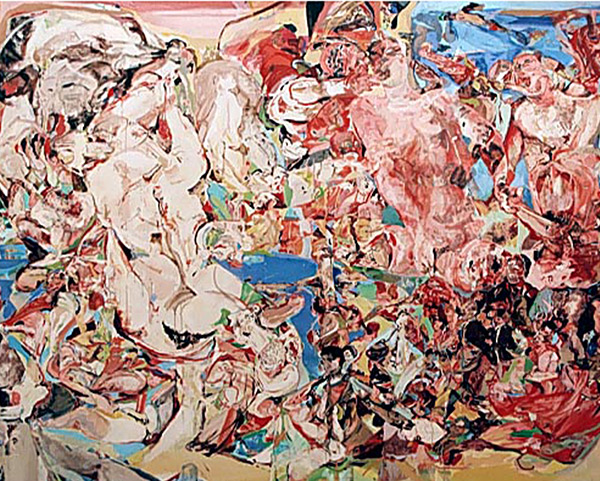 Cecily Brown is probaby one of the most popular contemporary female artists alive. born in London, England in 1969 she was definitely influenced by the work of early Abstract Expressionists such as Willem de Kooning and Joan Mitchell. Characterised by overt sexual imagery and an Abstract Expressionist gestural style, Brown's work has emerged some of the most influential of her generation.
High Society reads like an F. Scott Fitzgerald orgy: little men in tails and top hats, muscle-bound millionaire hunks pulling themselves to climax, indiscernible bits of sensuous bodies, detached penises, the allusion of gossipy dinner-party crowds.
Elaine de Kooning – Bull 2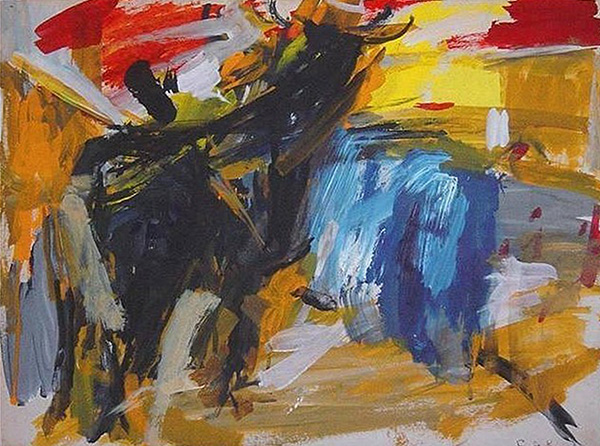 Elaine de Kooning was an accomplished landscape and portrait artist active in the Abstract Expressionist movement of the early twentieth century. Though she was very serious about her own work, she was well-aware that it was often overshadowed by her husband's fame. Women were often marginalized in the Abstract Expressionist movement, functioning as objects and accessories to confirm the masculinity of their male counterparts.For that reason, she chose to sign her artworks with her initials rather than her full name.
As her career began to soar, Elaine's marriage started to disintegrate. After separating from Willem and moving to New Mexico, Elaine began her career as a teacher. During that period she felt free to develop her own style as was during that same period that she painted Bull 2.
Yayoi Kusama – Pumpkin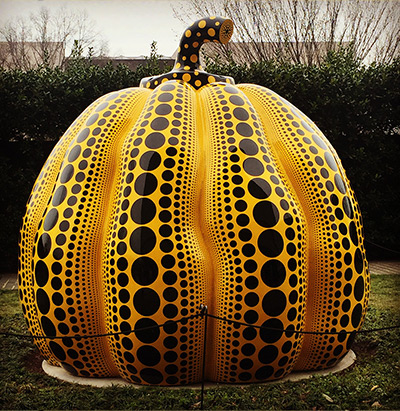 Yayoy Kusama more than an artist is an interesting human being. Born in 1929 in Japan she started working with Sculpture and installation before making her big move to performance, painting and fiction. Her work is mainly conceptual art and shows some atributes of feminism, minimalism, surrealism, pop art and abstract expressionism. She moved to New York city in 1958 and became part of the New York avant-garde scene throughout the 1960s.
"The pumpkin is to Yayoi Kusama what the Campbell's Soup can is to Warhol: an everyday comestible elevated to the status of fine art, via a singular artist's skills and vision. She has created pumpkin sculptures and paintings, pumpkin infinity rooms, pumpkin charm bracelets and pumpkin polka-dot print shoes."
Keith Haring – Subway Drawings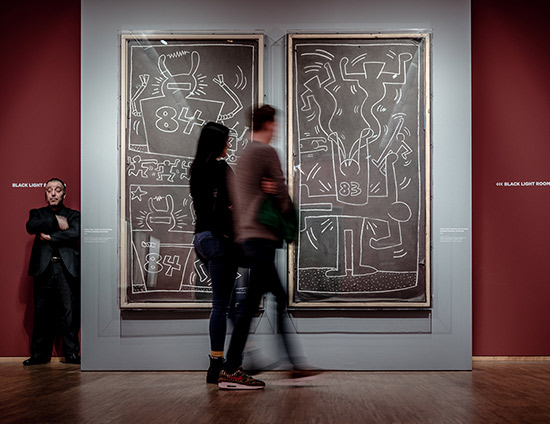 Keith Haring was born on May 4, 1958 in Reading, Pennsylvania. He developed a love for drawing at a very early age, learning basic cartooning skills from his father and from the popular culture around him, such as Dr. Seuss and Walt Disney. After moving to New York in 1978 he found a thriving alternative art community that was developing outside the gallery and museum system, in the downtown streets, the subways and spaces in clubs and former dance halls. Here he became friends with fellow artists Kenny Scharf and Jean-Michel Basquiat.
While his career involved a diverse range of art making—painting, drawing, performance, video, murals, and art merchandising—his subway drawings stand among his most well-known and celebrated work. Haring drew over 5,000 chalk drawings over a five-year period, from 1980 to 1985, in New York City subway stations.
Jean-Michel Basquiat – Untitled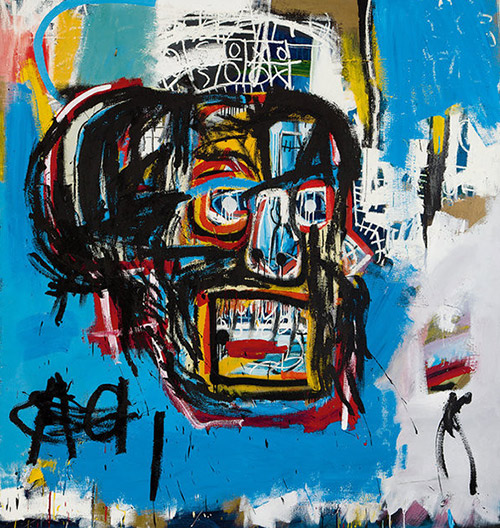 Before Basquiat being known as Basquiat was SAMO who raised his popularity due to the enigmatic writings at the Lower East Side of Manhattan during the late 70's. Moreover duting the 80's Basquiat name became widely popular even becoming the youngest artstist to be exhibit at Whitney Biennal with only 22 years old. Basquait unfortunetly died at 27 of a heroin overdose. After this tragic incident his works became even more valuable.
Untitled of Jean Michel Basquiat sold at Sotheby's auction in May 2017, for $110.5 million, becoming one of the most expensive paintings ever purchased. It also set a new record high for an American artist at auction.
Robert Ryman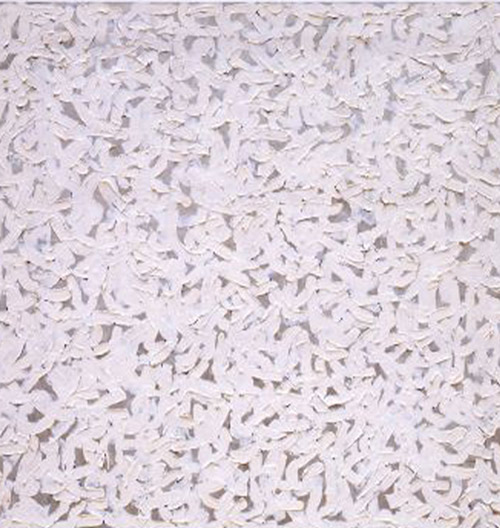 Robert Ryman died last year at age 88. He was an American painter identified with the movements of monochrome painting, minimalism, and conceptual art. Best known for abstract, white-on-white paintings Ryman became popular quite late in life. Starting as a professional saxofone player who also served the army Robert had an interesting and different walk to fame. His first solo exhibition only happened when he was already 36 years old but then only took him 5 years to have a solo show at the Guggenheim Museum in New York City.
This painting emphasizes the importance of color in Ryman's work; even when the key color he uses is white, shade and tone are always carefully calculated. Here, the thickly laid white paint acts as a type of screen for the red, purple, and yellow hues behind it. The screen-like quality of the white painting dovetails with the title, possibly a reference to Ryman's attempt to become a professional saxophonist. By 1962, he had abandoned his musical career for one as an artist, thus relegating the former to the background with respect to his new profession.
Joan Mitchell – Bracket
Joan Mitchell can be identified as a member of the second generation of abstract expressionists. At a time when women were marginalized in the art world, she captured the attention of the leaders of the New York avant-garde: Franz Kline, Willem de Kooning, and Hans Hofmann all admired her work. In 1951, she was one of only a few women invited to join The Club, the East Eighth Street gathering place where the Abstract Expressionists met for weekly discussions. Throughout the 1950s, Mitchell developed her signature style: rhythmic counterposed lines and layered fields of color that became a language through which she communicated emotion and life experiences.
Bracket can be appreciated at San Francisco Museum of Modern Art. A striking 15 feet wide, Bracket is a magnificent example of Mitchell's late work. Known for creating large works, her use of two or more panels allowed her to create monumental works of art
Tracey Emin – In my Bed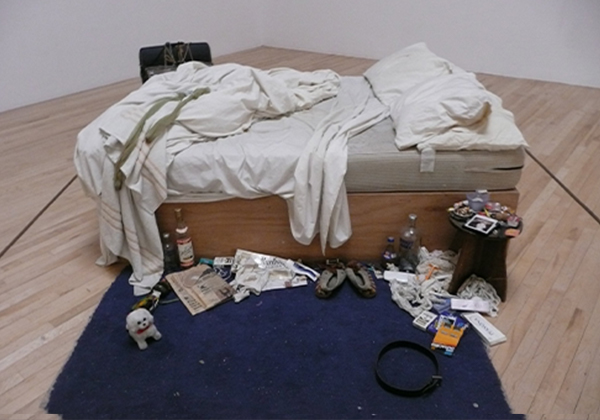 As Hirst, Tracey Emin was another protege of Charles Satchi who gained popularity on 90's in Britain. She is best known for her poignant works that mine autobiographical details through a variety of media including painting, drawing, photography, video, sculpture, and neon text.
My Bed is one of the most popular works of the artist. First created in 1998, it was exhibited at Tate Modern in 1999 as one of the shortlisted works for the Turner Prize. t consisted of her bed with bedroom objects in a dishevelled state, and gained much media attention. Although it did not win the prize, its notoriety has persisted. It was sold at auction by Christie's in July 2014 for £2,546,500.
Roy Lichtenstein – Drowning girl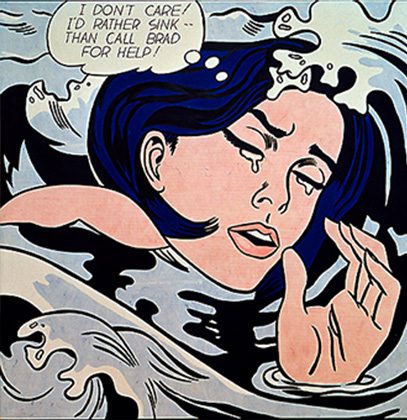 Roy Lichtenstein can be considered a cousin of Andy Warhol. Another American Artist he became a leading figure in the pop art movement. His work defined the premise of pop art through parody. Lichtenstein used oil and acrylic paint in his best known works, such as Drowning girl which was appropriated from the lead story in DC Comics' Secret Hearts.
Drowning girl has been described as a "masterpiece of melodrama", and is one of the artist's earliest images depicting women in tragic situations, a theme to which he often returned in the mid-1960s. It shows a teary-eyed woman on a turbulent sea. She is emotionally distressed, seemingly from a romance.
Anish Kapoor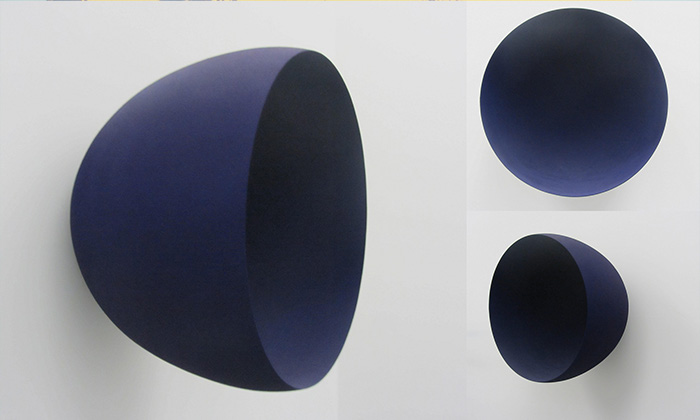 Anish Kapoor is a British Indian sculptor specializing in installation art and conceptual art. Born in Mumbai, Kapoor has lived and worked in London since the early 1970s when he moved to study art, first at the Hornsey College of Art and later at the Chelsea School of Art and Design.
Kapoor is acknowledging, in effect, that art works on a deeper and more intuitive level than messages and morals: it is experienced primarily aesthetically, which is to say through the senses, and imaginatively, which is a matter of sympathetic participation by the viewer in the realisation of meaning.
Before his 1989 solo exhibition at the Lisson Gallery, London, it was feared that the Indian-born artist, Anish Kapoor, had reached an impasse. Void marked a turning point in the artist's sculpture, which he had been practising in Britain for the previous two decades.
David Hockney – Portrait of an Artist (Pool with Two Figures)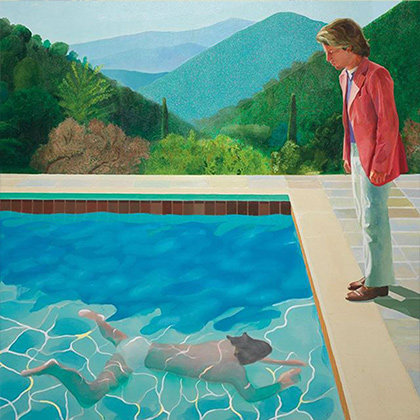 A pioneer of the British Pop Art movement in the early 1960s, David Hockney gained recognition for his semi-abstract paintings on the theme of homosexual love before it was decriminalised in England in 1967. Hockney began painting scenes of the sensual and uninhibited life of athletic young men, depicting swimming pools, palm trees, and perpetual sunshine.
David Hockney's 1972 Portrait of an Artist, sold at Chisties in 2018 for an inspiring $90.3m (£70.2m), marking at that time a new world record for a living artist.
Jeff Koons – Ballon Dog
Jeff Koons can be considered the Andy Warhol of 21th century. Recognised for his work dealing with popular culture and ballon alike sculptures he rose to prominence in the mid-1980s as part of a generation of artists who explored the meaning of art in a media-saturated era.
Ballon Dog became the artist most popular work especially when it sold for $58 million at Christies in 2013.
Mark Rothko – No. 22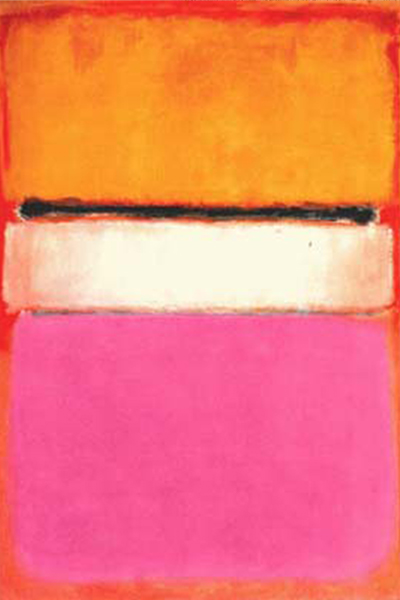 One of the preeminent artists of his generation, Mark Rothko is closely identified with the New York school, a circle of painters that emerged during the 1940s as a new collective voice in American art. During a career that spanned five decades, he created a new and impassioned form of abstract painting. Rothko's work is characterized by rigorous attention to formal elements such as color, shape, balance, depth, composition, and scale; yet, he refused to consider his paintings solely in these terms.
White center shows a brilliant use of color schemes all blended into a single painting enhances a feeling of warmth, brightness, and happiness. It was sold at Sotheby's post-war auction in 2007 for $ 72.84 million achieving at the time the record of the costliest work of art sold at an auction post-war.
Sunflower seeds – AI WEI WEI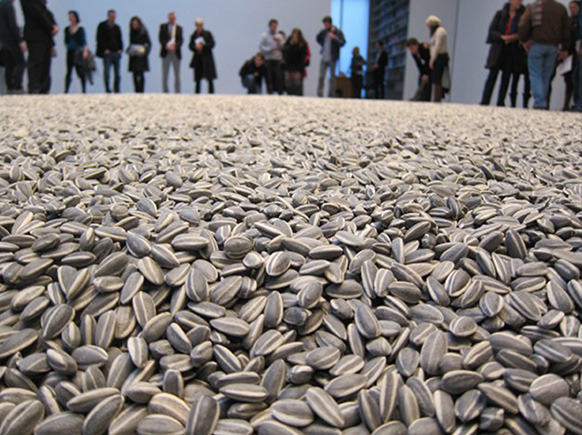 A cultural figure of international renown, Ai Weiwei is an activist, architect, curator, filmmaker, and China's most famous artist. Open in his criticism of the Chinese government, Ai was famously detained for months in 2011, then released to house arrest.Some of Ai's best known works are installations, often tending towards the conceptual and sparking dialogue between the contemporary world and traditional Chinese modes of thought and production.
For Sunflower Seeds (2010) at the Tate Modern, he scattered 100 million porcelain "seeds" handpainted by 1,600 Chinese artisans—a commentary on mass consumption and the loss of individuality.
Francis Bacon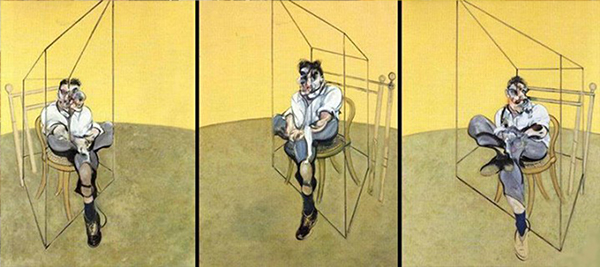 Francis Bacon (28 October 1909 – 28 April 1992) was an Irish-born English figurative painter known for his raw, unsettling imagery. Focusing on the human form, his subjects included crucifixions, portraits of popes, self-portraits, and portraits of close friends, with abstracted figures sometimes isolated in geometrical structures
The triptych, Three Studies of Lucian Freud (1969), is considered one of Bacon's greatest masterpieces. It was sold after six minutes of fierce bidding at Christie's auction house for $119.9m (£74m) .