As an artist, you'll spend a lot of your time building up popularity and selling art pieces to new customers. One of the best ways to attract potential customers is by setting up a booth at a popular art fair. But, one of the major downsides with art fairs is that you have to pay for a spot!
So, are art fairs worth it? Art fairs might cost you upwards of $1,000 for a single trip. However, they can definitely be worth it if you're clinching sales and building up a name for yourself. Yet, you need to be making an effort to make them worth it. Work on networking, choosing the right fairs, and cutting costs.
There are some situations where an art fair is definitely worth it for new and skilled artists! So, we're going to be reviewing what art fairs are, how much they cost, and how to make them worth it for you.
What Are Art Fairs?
An art fair is a trade show of sorts where skilled artists can display and sell their own artistic pieces. But, anyone with a role in the art industry can take part and set up their own art booths or secure spaces in the gallery. That includes gallery owners, collectors, and individual artists.
The goal of an art fair is to attract local customers to your artistic style. If you display your best pieces, you might be able to make some sales and secure yourself long-term customers. There's also a pretty good chance that your work will be seen by local gallery owners and curators. This can be huge for your career. If you want to know more about the art fairs market you can find it here: https://marianacustodio.com/art-fairs/
The Cost of Attending an Art Fair
What you'll be spending on a booth or gallery space will depend on the actual art fair and how much space you need. But, there's no way to avoid costs altogether. Here's a brief look at some of the fees associated with art fairs:
Application fee. This fee is usually somewhere around $50, though there are some art fairs that won't cost you a dime. You can also get this fee covered by your gallery owner if you have one.
Booth or gallery space fee. This fee really depends on how much space you're looking for. A smaller booth might be as low as $150, while a significantly larger booth will probably be closer to $1,000. Therefore bigger art fairs can cost up to 10.000$.
Travel and hotel fees. If you're traveling a long distance, you'll have to think about gas prices, tolls, hotel fees, and meals. This can cost you several hundred dollars for just a few days.
So, you might be spending around $1,000 for all the combined costs of attending an art fair. But, you also need to think about the possibility of paying commission. That means you'll be giving a cut of each sale to the art fair creators. Sometimes, it's as much as 50% of the final sale price.
If you're spending a grand to take part in an art fair and not making sales, then it's definitely not worth it! The good news is that there are ways to make art fairs worth it financially and career-wise.
Making Art Fairs Worth It
If art fairs weren't at all worth it for artists, they wouldn't still be around today. Yet, not every art fair will be lucrative for you and your artistic style. There are a lot of things to think about before deciding on a specific art fair to display your new work. Let's go over how you can make sure that an art fair is worth the money you'll be shelling out!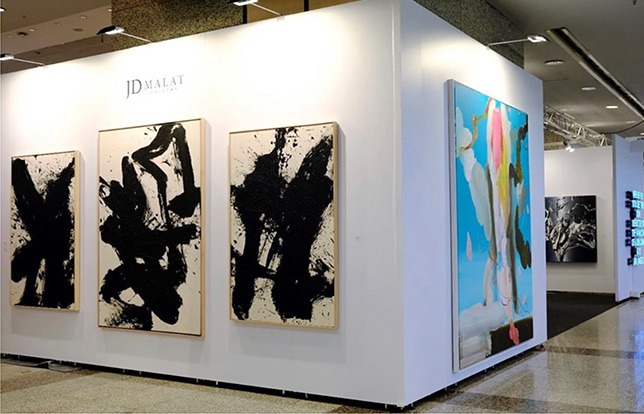 The Fees
The fees are unavoidable when it comes to art fairs, but there are some ways that you can cut some costs. For example, your gallery owner might pay the application fee for you if you're currently with a gallery. That's about $50 that you get to keep in your own pocket. You can also stick to local shows to avoid the fees that come with travel and hotel stays.
One of the best ways to guarantee that you're pulling in some income at the end of the day is by doing a few calculations. Take into account how much you're spending on fees (in total) and how many pieces of your work you'd have to sell to get income. If you have to sell dozens of pieces to break even, you might want to wait a few years before trying that specific fair.
So, make sure an art fair is within your budget. Even though you want to make huge sales right now, it might be a better idea to focus on smaller fairs for right now. This can help you to make a name for yourself, make sales, and save money.
The Number of Visitors
You want to be sure that tons of people will be exposed to your art and style at an art fair. Spending $1,000 for a few days sounds like a lot right now. Yet, some art fairs recruit thousands of unique visitors every day. That's a much greater chance of exposure and art sales.
The goal is to get as many pairs of eyes on your artwork as possible. Remember, you're somewhat competing with the other attendees of the art fair. There's a better chance of getting some bites with 10,000 visitors a day rather than just 80.
You need to also think about the qualities of the local community. Try to choose art fairs that lure visitors that are interested in your particular style of art. This is a great way to guarantee at least some interest in your pieces.
The Possible Name Recognition & Networking Opportunities
Art fairs are a great way to sell your pieces to the public and art aficionados. At the same time, art fairs are often visited by some of the biggest names in the industry. That means you might be able to connect with a gallery owner or a curator that's impressed by your artwork. This can lead to tons of future opportunities and greater sales.
It might also be a good idea to focus on a certain area for a little while. Focus on art fairs in a certain state or states in hopes that the same people will see your work repeatedly. Once people see you at plenty of local shows, they'll be much more interested and value you as a professional in your industry.
Even if you're not making a lot of income at your first art fair, that doesn't mean you're leaving empty-handed. Art fairs are a great way to build relationships with others in the art community. You can learn about other styles of art and how popular artists have built a customer base.
You might even make some friends and learn about some upcoming art fairs. You might eventually be the artist that newcomers turn to for a little career advice! So, take the time to talk to the other attendees.
Conclusion
Strategically showing your art at art fairs can cause your art career to skyrocket. Though you'll be spending a lot of money, you'll be showing your art to likely thousands of people and making some sales. Here are some tips for making an art fair worth it:
Work on networking and building relationships at the fair
Choose low-fee and local fairs when you're just starting out
Consider the number of pieces you'd have to sell to break even
Choose art fairs that bring in a ton of visitors
Sources